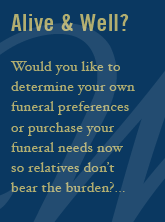 Personalization
Wilbert offers multiple ways to personalize a burial vault or urn vault with words, symbols, and images that speak of a singular spirit. Your loved one had a unique personality. The selections you make for the visitation and service should communicate that singular spirit. These choices ensure your loved one's memory is remembered for generations to come.
Ownership
Thomas P. Conlin
Former owner, Thomas P. Conlin, began in the vault business in 1969. He graduated from Marquette University in Milwaukee, WI with a degree in Political Science and Economics. He then spent 10 years working as a pharmaceutical representative for Abbott Laboratories. In 1967, Tom became one of three partners of Fond du Lac Wilbert Vault. He was involved in manufacturing, sales, delivering and setting vaults, and bookkeeping while raising his family. He became president of the Wilbert Manufacturers Association in 1982 and was involved with Wilbert Funeral Services ad hoc marketing committee in the mid-1990s. In 2000, Tom semi-retired and offered the business to two long-time employees. He remains as a consultant.
Susan Westphal
Sue, current owner, began working part-time at Fond du Lac Wilbert Vault doing office work in 1977 while attending high school and then college. Sue graduated from Marian College in Fond du Lac with a B.A. Degree in Education. She taught fourth grade for 5 years then taught Language Arts and Spanish at the middle school level between 1987-1992. Sue returned to Fond du Lac Wilbert Vault in January of 1992. In 2000, Sue bought into the business becoming a 1/3 partner. Then, in 2007, Tom Conlin (former sole owner) retired and Sue became ½ partner with Dean Waldschmidt.

Dean Waldschmidt
Dean Waldschmidt started working in the burial vault business with his father in 1977. His father sold his burial vault business, and in 1987 Dean began working at Fond du Lac Wilbert Vault. In 2000, Dean became a 1/3 partner with Sue and Tom and in 2007, became ½ partner with Sue Westphal. In 2018, Dean sold his share of the business to his partner Sue Westphal. Dean is married and has four grown children.
---
Staff
Fond du Lac Wilbert, though small, is like a large family. Some of our employees have been with us since the 1970's.

Susan Westphal, current owner
employed in 1977

Tom Conlin, former owner
employed 1967-2007

Dean Waldschmidt, former owner
employed in 1987

Jack Roeseler
employed in 1974

Neal Theisen
employed in 1989

Tim Drehmel
employed in 2006
Ed Leisering
employed 2014
Mike Westphal
employed 2016

Patty Westphal
employed 2017

Steve Boehm
employed 2018